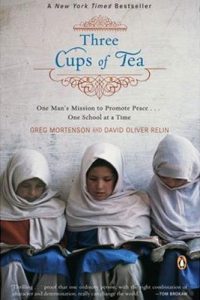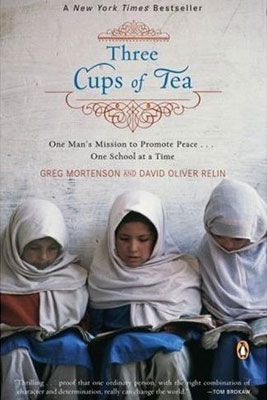 Three Cups of Tea
by Greg Mortensen and David Oliver Relin
Anyone who despairs of the individual's power to change lives has to read the story of Greg Mortenson, a homeless mountaineer who, following a 1993 climb of Pakistan's treacherous K2, was inspired by a chance encounter with impoverished mountain villagers and promised to build them a school. Over the next decade he built fifty-five schools—especially for girls—that offer a balanced education in one of the most isolated and dangerous regions on earth. As it chronicles Mortenson's quest, which has brought him into conflict with both enraged Islamists and uncomprehending Americans, Three Cups of Tea combines adventure with a celebration of the humanitarian spirit.
---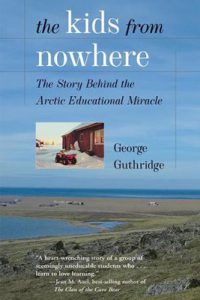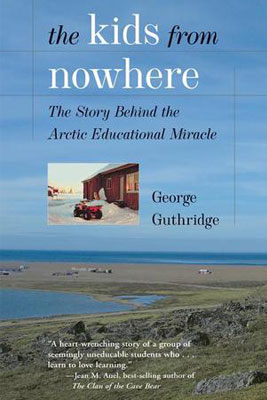 The Kids from Nowhere
by George Guthridge
This book shares the gripping, true story of a group of Alaskan Eskimo students who, despite nearly impossible odds, achieve one of the most stunning educational feats in the history of American education. Hilarious, disturbing, densely atmospheric — and packed with surprises at every turn — The Kids from Nowhere is a powerful, poignant story that will make you want to cry and cheer at the same time. This is an inspiring story of triumph over adversity that provides a fascinating view of a remote Alaska Native village.
---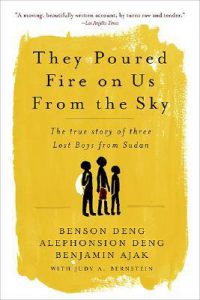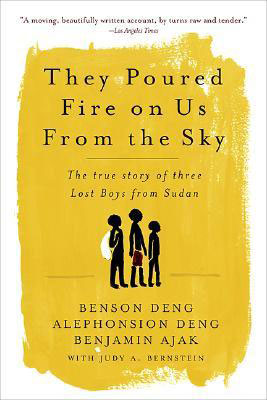 They Poured Fire on Us From the Sky
by Benjamin Ajak, Alephonsion Deng, and Benson Deng
Benjamin, Alepho, and Benson were raised among the Dinka tribe of Sudan. Their world was an insulated, close-knit community of grass-roofed cottages, cattle herders, and tribal councils. The lions and pythons that prowled beyond the village fences were the greatest threat they knew. All that changed the night the government-armed Murahiliin began attacking their villages. These children, and thousands of other boys across the Southern Sudan, fled home and joined a stream of child refugees that became known as the Lost Boys. Their journey would take them over one thousand miles across a war-ravaged country, through landmine-sown paths, crocodile-infested waters, and grotesque extremes of hunger, thirst, and disease. In They Poured Fire on Us From the Sky, Alepho, Benson, and Benjamin, recount their experiences along this unthinkable journey.
---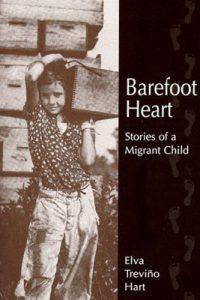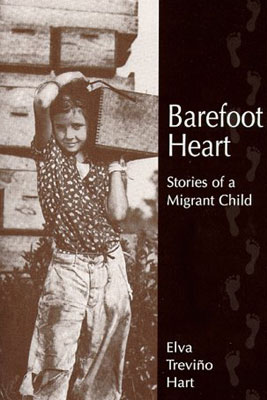 Barefoot Heart: Stories of a Migrant Child
Written by Elva Treviño Hart
A vividly told autobiographical account of the life of a child growing up in a family of migrant farm workers. It brings to life the day-to-day existence of people facing the obstacles of working in the fields and raising a family in an environment that is frequently hostile to those who have little education and speak another language. Assimilation brings its own problems, as the original culture is attenuated and the quality of family relationships is comprimised, consequences that are not inevitable but are instead a series of choices made along the way. It is also the story of how the author overcame the disadvantages of this background and found herself.
---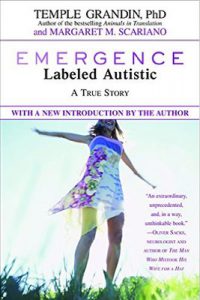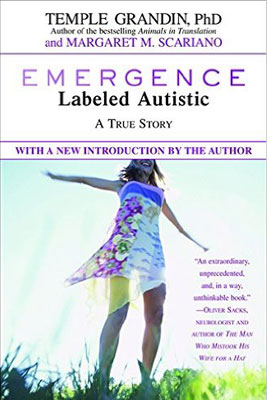 Emergence: Labeled Autistic
Written by Temple Grandin
An inspiring firsthand account of a courageous and determined autistic woman who makes a remarkable discovery that eventually helps her control her condition and virtually cure her disorder captures the isolation and fears suffered by autistic children.
---
Written by Jay Asher
Clay Jensen returns home from school to find a mysterious box with his name on it lying on his porch. Inside he discovers thirteen cassette tapes recorded by Hannah Baker, his classmate and crush who committed suicide two weeks earlier. On tape, Hannah explains that there are thirteen reasons why she decided to end her life. Clay is one of them. If he listens, he'll find out how he made the list. Through Hannah and Clay's dual narratives, debut author Jay Asher weaves an intricate and heartrending story of confusion and desperation that will deeply affect teen readers.
---
Written by Terrence Roberts
Sober news reports of a U.S. Army convoy rumbling across the bridge into Little Rock cannot overpower this intimate, powerful, personal account of the integration of Little Rock Central High School. Showing what it felt like to be one of those nine students who wanted only a good high school education, Roberts as rich narrative and candid voice take readers through that rocky year, helping us realize that the historic events of the Little Rock integration crisis happened to real people to children, parents, our fellow citizens.
---
Written by Luis Carlos Montalván
A highly decorated captain in the U.S. Army, Luis Montalván never backed down from a challenge during his two tours of duty in Iraq. After returning home from combat, however, his physical wounds and crippling post-traumatic stress disorder began to take their toll. He wondered if he would ever recover. Then Luis met Tuesday, a sensitive golden retriever trained to assist the disabled. Tuesday had lived among prisoners and at a home for troubled boys, and he found it difficult to trust in or connect with a human being–until Luis.
Until Tuesday is the story of how two wounded warriors, who had given so much and suffered the consequences, found salvation in each other. It is a story love between a man and dog, and how, together, they healed each other's souls.
---
by Conor Grennan
Little Princes is a true story of families and children, and what one person is capable of when faced with seemingly insurmountable odds. At turns tragic, joyful, and hilarious, Little Princes is a testament to the power of faith and the ability of love to carry us beyond our wildest expectations.
---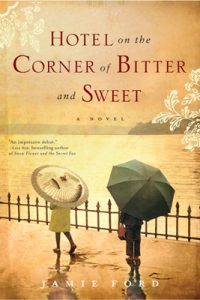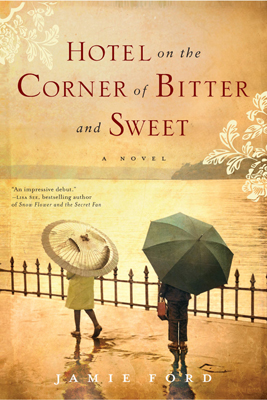 Hotel on the Corner of Bitter and Sweet
by Jamie Ford
Set during one of the most conflicted and volatile times in American history, Hotel on the Corner of Bitter and Sweet is an extraordinary story of commitment and enduring hope. In Henry and Keiko, Jamie Ford has created an unforgettable duo whose story teaches us of the power of forgiveness and the human heart.
---