2018 Book Selection: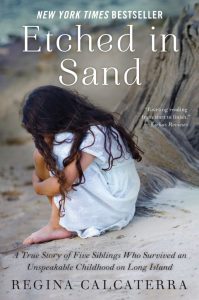 Etched in Sand
Written by Regina Calcaterra
A gut wrenching and gripping story, Etched in Sand chronicles Regina's rising above her past, while fighting to keep her brother and three sisters together through it all.
Beautifully written, with heartbreaking honesty, Etched in Sand is an unforgettable reminder that regardless of social status, one can rise above their past if they have the desire and the determination to succeed.
Regina's memoir appeared on the New York Times Best Sellers lists for 16 weeks during 2013-14 rising to #2 on the New York Times and Wall Street Journal's Non-Fiction
E-Books Best Sellers list and #6 on the New York Times Non-Fiction Combined Print & E-Books list. It also has been selected for One College/One Book Read and integrated into college and
high school curriculums nationwide. Her next book, Girl Unbroken: A Sister's Harrowing Story of Survival from the Streets of Long Island to the Farms of Idaho, that she wrote with her sister Rosie Maloney, about Rosie's journey, will be published October 2016 (HarperCollins Publishing/William Morrow).
Previous Book Selections: